SF
I went to SF yesterday (Saturday 2/4) for dinner with friends. I decided to go early and hang out in Union Square area...
I took the BART to the city, as usual. I was listening to my MP3 player and had my eyes shut when I noticed we've been stopped in Castro Valley stop for a while. When I opened my eyes I saw two cops with a bomb sniffing dog walking along the aisle. I take BART regularly to the city and I don't remember this happening before.
When I got off the BART station, I made my way to the restroom in the shopping center and then went to Blondies for some veggie pizza. Since it was a nice sunny day, I decided to take my pizza to Union Square.
There was an Art Show in Union Square. Mostly paintings and photographs. The exhibit was really good. The medium-format pictures on exhibit were from really nice part of the world. The detail and colors on the pictures were amazing.
Also on Union Square were these Heart Exhibit...
NBC 11 had these guys on olympic outfits promoting the upcoming olympics in their station:
While in Union Square, I saw this nice looking car...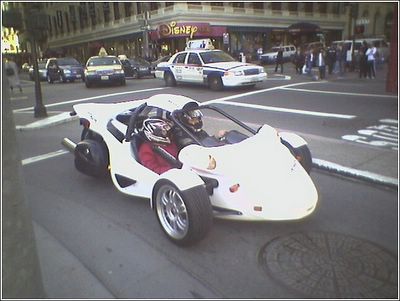 The trip to the City was fun. I haven't been there in a while. The weather was really nice and sunny, and the Art Exhibit was fun as well. I saw several photography students from Academy of Arts SF with their SLR camera taking pictures of people and things around Union Square. That would have been a perfect time to have an SLR camera with me.
Dinner was really nice. We went to Osha, a really nice and cheap Thai restaurant on 2nd Street.